PRESS RELEASE – OBITUARY
February 29, 2016
Wolfgang Behrens, the father of green roofs, you will be missed.
It is with great regret and deep sadness that I announce the passing of Wolfgang Behrens, father of green roofs. Yesterday, my life-long mentor and very dear friend died in his home, surrounded by his three daughters and aware of their presence.
As much as this is a difficult time for family and friends, I also know it's important to celebrate a life worth remembering.
The world has lost a pioneer today.
Wolfgang touched people's hearts. He was a man with a vision and unlimited fondness and curiosity for his life's work. His vision has inspired the planting of green roods around the world. And through every single one, he continues to live.
I could tell you stories about our time working closely together for so many years, breaking into a new field is not without its moments. Some funny. Some exciting. Some were even terrifying.
But what comes to mind right now, honestly, is my last visit with him in November. It was in some ways reminiscent of the many years we sat in his kitchen together, laughing and planning away, with the lovely fields where he did his experimenting, visible from his picture window.
There was much sadness on that visit as his wife was very ill. But there was also beauty and light. We went for a walk together through his aqua park, a sea of water lilies, Wolfgang's creation and pride and joy. Mr Behrens especially enjoyed his walks when the lilies were in bloom. Well it was November and they were just starting to go dormant. That was, unfortunately, to be our last walk together. As short as it was, it was a sweet moment that I will always remember.
As I prepare to return to Germany for the funeral, my mind is heavy with the loss of a generous and noteworthy man. Wolfgang Behrens your legacy will live on. But you will be missed.
Kind regards,
Joy Schmidt
President
###

1,000 GREEN ROOFS + BUILDING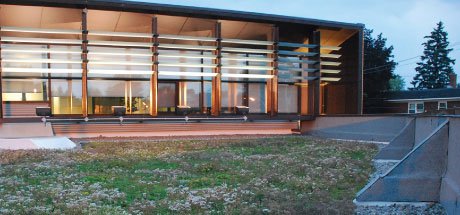 Frank J Horgan Water Treatment Plant, Toronto • World on Yonge, Toronto • FSCC -Forensic Sciences and Coroner's Complex, Toronto • Blue Nose Academy, Lunenburg, Nova Scotia • Into the Wild, Saint Johns, New Brunswick • Planetarium, Montreal • ED C – Export Development Corporation, Ottawa • Vancouver Police Department, Vancouver • RCMP, Surrey, BC • BTC – Broadway Tech Centre, Vancouver • Waterloo City Hall, Waterloo, ON …